(or Movies Almost as Scary as That Alliteration)
Now that it's officially fall (even if it doesn't feel like it in Toronto), I feel like I  can geek out over my love of horror movies. We went through a rough patch there, me and horror (for a while, the last thing I wanted to do was purposely scare myself), but we've been–cautiously–reunited over the past couple of years.
Between now and Halloween, I'll pretty much exclusively be watching scary movies. Here are my (spoiler-free!) recommendations, divided into categories based on what you're in the mood for. I'm always looking for new ones to watch, so please leave your recommendations in the comments!
If you're looking for something relatively tame…
In The Others, Nicole Kidman and her children sense a presence in their home–which is kept constantly dark because her kids have a rare condition that makes them allergic to the sun. Although there are a few well-executed jump scares, this is unlikely to keep you up at night.
(Available on Netflix, Google Play, and the Cineplex Store)
If you love film noir…
Vertigo is another film that's tense, but isn't frightening in a way that lingers (unlike a lot of the others on this list). Jimmy Stewart plays Scottie, a former detective with a crippling fear of heights, who is hired by an acquaintance to follow his wife. Like any Hitchcock film, it's masterfully executed and full of mystery.
(Available on Google Play and the Cineplex Store)
If you're a Stephen King fan…
Yeah, I know: Stephen King didn't love Kubrick's adaptation of The Shining. Hopefully he'll forgive me for including it here. Although the novel and the film are entirely different (yet both phenomenal) beasts, the general premise is the same: the Torrance family moves into a creepy-ass hotel to care for it while it's closed for the winter.  The strange happenings in the hotel combined with the family's utter isolation from the outside world make for a truly terrifying experience.
(Available on Google Play and the Cineplex Store)
Misery, on the other hand, is a more faithful adaption of the Stephen King novel it's based on (although one key scene was–understandably–modified to be slightly less gruesome than the version in the book). Kathy Bates earned an Oscar for her performance as Annie Wilkes, a former nurse who finds her favourite writer after he crashes his car in a remote area. When the writer awakes in her guest room, he discovers that he's less a patient and more a prisoner.
(Available on Google Play and the Cineplex Store)
If you like slashers…
Slashers aren't typically my jam, but I'll make an exception for ones that are exceptionally well done, like Texas Chainsaw Massacre. It's a familiar plot: five friends on a road trip stop at a remote farmhouse, where they're pursued by a homicidal maniac. While this is extremely hard to watch, I have to admit that certain scenes are shot, well, beautifully… as weird as that sounds. In particular, the very last shot is memorable and haunting.
(Available on Google Play and the Cineplex Store)
If you prefer psychological thrillers…
Attending a dinner party hosted by your ex is nightmarish enough on its own, but The Invitation manages to amp the tension up even further by making most of the attendees creepy AF.
(Available on Netflix and Google Play)
If you're into demonic possession…
I mean, it's gotta be The Exorcist, right? I know this term is overused, but it definitely applies here: this film is i-con-ic. The stairs, the pea soup, the neck… even if you haven't seen the movie, you probably know what I'm talking about.
(Available on Google Play and the Cineplex Store)
If you want a series….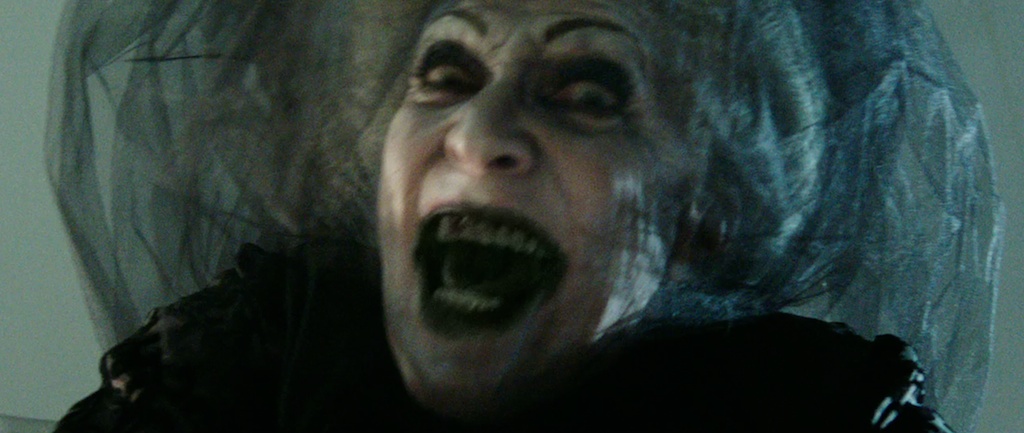 In the first film of the Insidious franchise, paranormal s–t starts to happen after a couple's young son falls into an inexplicable coma. They call in demonologists (as one does), and the rest is, well, nightmare fuel, in my case. I know that a lot of people didn't find this franchise scary, but even that screengrab above… <shudder>.
The second film is a sequel, and the third film is a prequel. Next year, they're coming out with a fourth film which is also said to be a prequel, so best to get the first three under your belt before then!
(Chapters 1-3 available on Google Play and the Cineplex Store, Chapters 2-3 available on Netflix)
The Conjuring franchise is another one that scared the s–t out of me. The films are based on stories of Ed and Lorraine Warren, who are paranormal investigators. The first film centers on the Perron family, who have recently moved into an old farmhouse (seriously, never go near a farmhouse). The second is set in England, where the couple investigate reports of a poltergeist. (Technically, the Annabelle films are also part of this franchise, but I'm not a fan, so I'm going to pretend they didn't happen.)
(Available on Google Play and the Cineplex Store)
If you want something that will leave you thinking…
Guys, I f–king loved The Babadook. It's one of those movies that I finished watching and immediately wanted to start over again.
Amelia is a widow whose son starts exhibiting strange behaviour including insomnia and paranoia. One night, he asks her to read him a mysterious, disturbing pop-up book about a monster called Mister Babadook… who her son insists is real.
(Available on Google Play and the Cineplex Store)
If you prefer horror comedies…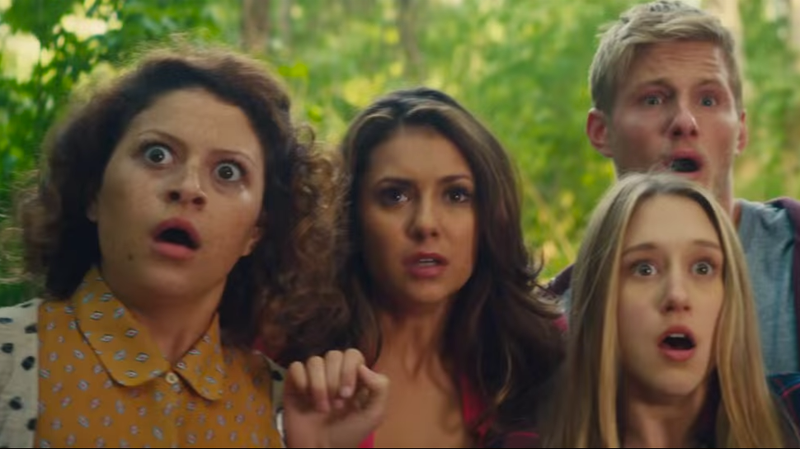 The Final Girls was another one that I immediately wanted to rewatch. Taissa Farmiga plays Max, whose deceased mother was the start of a campy (no pun intended, because it was also set in a summer camp) teen slasher in the '80s. At a showing of the film, Max and her crew get transported into the movie, where they have to figure out how to survive.  It's gory, it's hilarious, and Alia Shawkat is in it, so it's obviously worth watching.
What We Do in the Shadows is a hilarious mockumentary about vampires who are roommates. It's the loudest I've laughed in a vampire movie since Twilight… except this time, it was actually meant to be funny. Their flat meeting where they argue about dishes was by far the funniest thing I saw in all of 2014.
(Available on Google Play and Netflix)
Unlike most films about demonic possession, Ava's Possessions focuses aftermath. Ava has no memory of the past 28 days, during which she was possessed and did some really bad s–t. She tries to piece together what happened while getting her life back in order with the support of a rehabilitation group for victims of possession.
(Available on Netflix and Google Play)